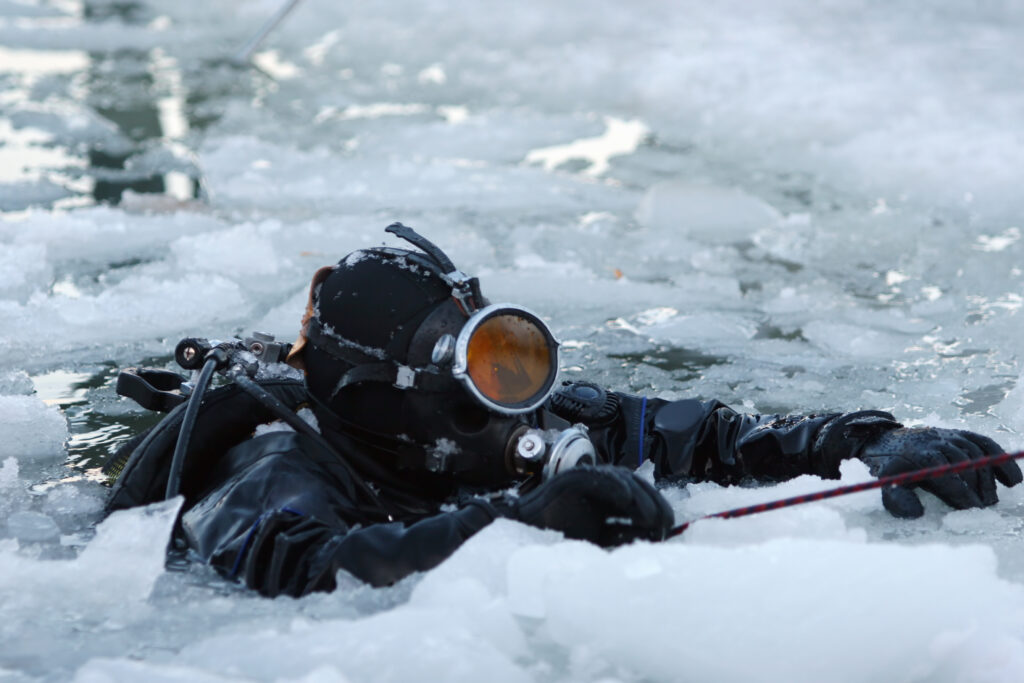 Divers who are intrigued by the "Polar plunge" or ice dives are willing to push the limits of their bodies to experience the beauty of underwater diving. Beautiful icebergs and macro life make for unique diving experiences. If you anticipate a cold icy dive, take these steps to ensure you don't develop hypothermia, frostbite, or other cold-related conditions.
Find a Dry Suit versus a Wet Suit
If you are diving in waters 50 degrees F or below, you will need a high-quality dry suit. Drysuits allow you to stay warm and layer clothing underneath using a thin layer of air around the body. High-quality zippers, seals, and valve openings allow you to dive without the threat of allowing water to seep in. Latex suits are a more customizable seal. Neoprene is also a high-quality material. By the Shore SCUBA Instruction offers high-quality wet suits for purchase.
Build Up Your Resistance to the Cold
The best way to build up resistance to the cold is by keeping the temperature in your home lower than the summer temperatures. This way the body will start to develop an equilibrium between inside and outside. You can also try to take cold showers. The cold water on your skin will equate to a polar dive with a dry suit. Put on a wet suit and go for a swim in a pool if you can. You will want your inside somewhat warmer than the outside. Just avoid toasty temperatures as much as possible before your dive. Start gradually and work your way up to swimming in that freezing pool. Ask your dive instructor for advice on how to approach a polar dive.
Buy High-quality Fitted Drysuits
High-quality stitching, neoprene, and appropriate fit make for the perfect drysuit. Suits need tight seals around the limbs and neck with fluidity around the legs. High-quality drysuits will make room for the wetsuits or drysuit undergarments you choose to layer under the drysuit. Look for terms such as "seal" or "self-donning zipper". A drysuit needs to be easy for you to get into without letting in the water.
An example of trustworthy drysuits is Pinnacle dive suits.
They offer self-donning front zippers and tight valve seals. Pinnacle sells a traditional drysuit with a valve and a military-approved suit with latex groin bands for flexibility. Both are made with high-quality neoprene and have a front zipper made with Aquaseal. These suits resist scraping and cutting with their heavy-duty outer membrane exterior.
If you are interested in finding the right drysuit or developing resistance to cold water, feel free to reach out to Kevin Alexander at By the Shore SCUBA Instruction.