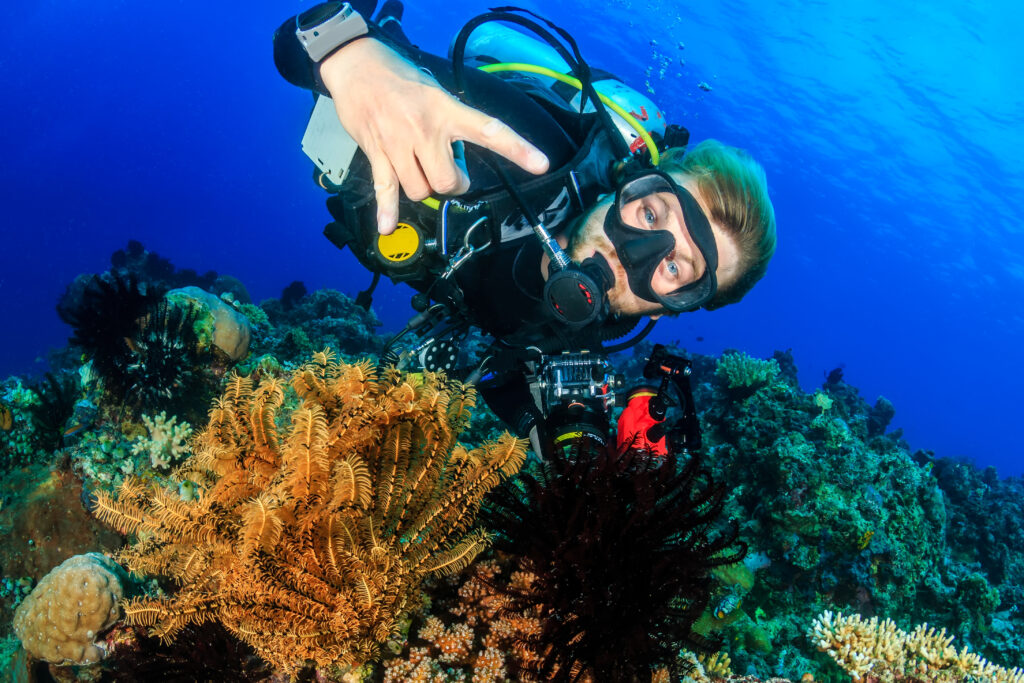 Beautiful underwater documentaries, photos, and experiences are shared online regularly amongst the SCUBA diving community. Considered water recreation, this activity does not require abnormal athletic ability but captivates people worldwide. Coming face to face with sea life is on the bucket list for many people. SCUBA diving gives you the most out of cruises and beachside vacations. With the rising popularity of SCUBA diving, you may wonder if you can embark on a dive. Though appealing and carefree, you need all your ducks in a row. Here is your crash guide to becoming a SCUBA diver and fulfilling your oceanic fantasies.
Getting your PADI Certification
First and foremost, you need to know the type of certification you need. PADI certifications allow you to dive in the open ocean and use all the gear. Snorkel diving and free diving do not require certification for recreational purposes. To receive your PADI certification, take the Open Water diver course (get certified in as little as four days!) You need:
To be in good health (some countries and jurisdictions require a medical exam)
To be ten or older
Take a virtual PADI knowledge course such as PADI Elearning.
Obtain a PADI certification from a PADI-certified Master Diving Instructor.
Equipment
Fill out any forms required.
Most Open water class prices start at $550.
SCUBA Diving Equipment
Some PADI instructors will provide you with air and life-saving equipment. Speak with your instructor beforehand before purchasing personal equipment. Most instructors do not recommend buying personal equipment until after the first class. Some schools offer life-saving equipment and require outside life-saving equipment to undergo inspection. You will need the following equipment:
Reef gloves and hand protection
Your ID
Some schools require textbooks
Your mask, snorkel, fins, wetsuits, and drysuits (for cold water dives)
Life-Saving Materials
Buoyancy control device(BCD)
A regulator with your BCD
weight belts
dive computers Dive tables
weights
air and tanks (some schools provide these)
With all these materials, ask your instructor what they provide and what you need. You may need these things later, so come up with a plan. The cost of all these materials together can cost up to $5000. Some people rent these materials for $150-$200 a day. You can keep certain personal items and rent equipment like your life-saving devices. Paying as you need things is the smart way to go. Try not to rent materials for long-term investments.
Additional Items
After you add up the costs of gear, keep these items in mind:
Research if you need your safety tube or other equipment for the jurisdiction where you are diving.
Dive insurance for medical reasons and equipment can start around $130-$200 monthly per person, depending on the coverage.
Dive video and camera equipment can rise close to $1000.
Bon Voyage
After you have gone through your checklist and determined what you need now or later, it's time to book an excursion.
Chart an excursion with a PADI-certified team or instructor. You need to know there will be one individual with you that has a Master's diving certification and is allowed to instruct others.
Look for a top-rated excursion crew with a good reputation and who is reliable.
Take a diving buddy. You may have your instructor present, but if they are leading a crew, you will need your dive buddy, who is also SCUBA certified.
Embarking on your first excursion is an exciting experience you won't want to forget. The dive camera ensures you can make memories that last a lifetime.
Sources-How Much does Scuba Gear Cost? & Is It Better to Rent? • Our Globetrotters
Best Scuba Diving Insurance (2022 EDITION) (divingsquad.com)
How Much Does Scuba Gear Cost? | Scuba Diving (keylargoscubadiving.com)
Scuba Certification: Everything You Need to Know (padi.com)
Scuba Diving and Snorkeling Course Rates - Guide Fees, Rates, and Rentals | Florida Keys Dive Center | Florida Keys Dive Center (floridakeysdivectr.com)