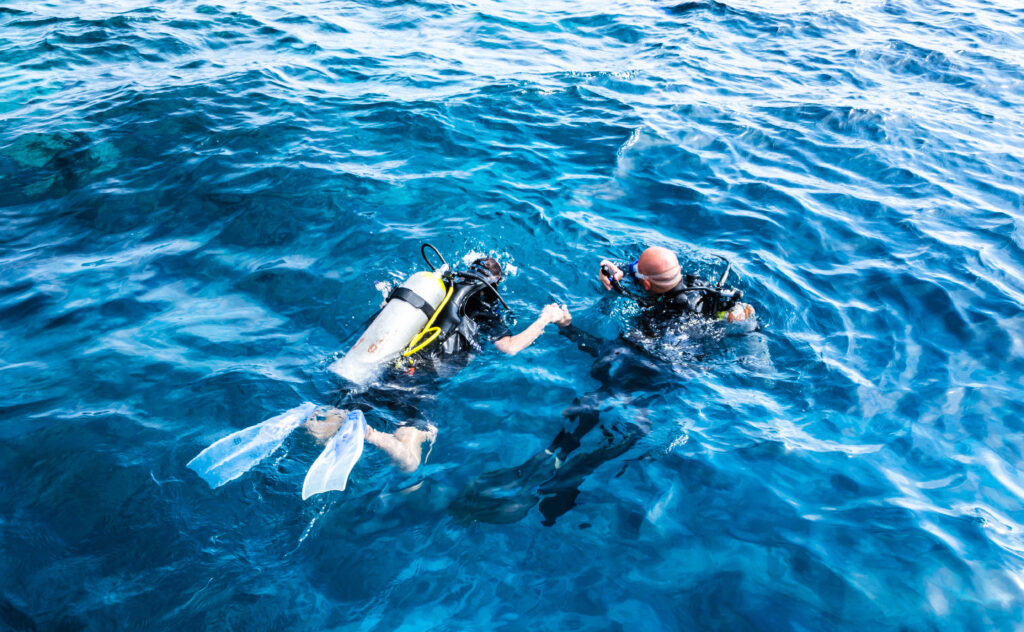 Get ready for unforgettable adventures. For individuals who have always dreamed of SCUBA diving or people looking for a SCUBA career, you may be wondering what SCUBA classes you need to take. Some classes are required upfront while other classes are considered to add on courses. Below are recommended courses as well as various add-on courses so that you can choose the right classes for you.
PADI Certification
Everyone who intends on SCUBA diving needs a PADI certification. This course usually includes 12 classes. For people who are on the fence, there are introductory or trial courses available to get your feet wet. The only requirements are that you are 10 years or older and that you can swim adequately. It is recommended that your health is adequate and that you are physically fit. During your PADI certification, you will go through about three different phases. You will first go through a learning portion in a classroom, followed by the confined water dive, and lastly with open water diving. You will be able to attend chartered dives with a PADI-certified diver.
Rescue Divers
Anyone interested in assisting other divers needs to take a rescue diver course. Some companies pay rescue divers for assistance on chartered dives. The requirements include taking Adventurer Diving courses, EFR Primary and Secondary Care training. Once you have taken this course you will have the ability to assist your fellow diver and provide the care needed in case of an emergency. This course is very useful for chartered dives or buddy dives.
Open Water SCUBA Diving
To safely SCUBA dive alone or on an uncharted dive, you need the Open Water course. Minors can even enjoy SCUBA diving in the open water as long as there is a certified adult with them. You can also take a more advanced version of open water diving to deepen the length of your dives from 59ft (40ft for Junior divers) to 100 ft.
Enriched Nitrox Classes
If you want to attend back-to-back SCUBA dives or just improve your overall SCUBA experience, take a course in enriched Nitrox diving. The Nitrox tanks provide you with a form of oxygen that has less nitrogen. Nitrogen over a long period can be a bit toxic to your lungs. This class gives you the knowledge to safely handle oxygen-enriched tanks and allows you longer periods of dive time.
Specialty Diving
There are many classes that a curious SCUBA diver can take. Wreck diving, cavern diving, and ice diving are important to take if you want to experience any of these environments. For those individuals who enjoy different conditions, deep water diver and night diver are great courses. Certain underwater creatures can only be found in these conditions. For individuals who love catching currents through rivers or oceans drift diving is an available course.
Technique Diving
There are a variety of diving skill classes that will help individuals improve their diving experience. Here is a brief overview of all of the courses you could end up taking. Peak buoyancy courses allow people to watch aquatic life without disturbing them. This will make for better underwater photo ops. The underwater navigator course will not only earn you college credits but will help you get more accurate readings on your compass. For divers who want more comfort and coverage, a full mask diving course is perfect. This dive is ideal for colder waters where individuals will want to breathe in through their nose and out through their mouth.
A very popular course to help divers position their tanks is the Sidemount course. This frees up the diver's back and allows his tanks to tag along. Other courses include boat dives so you can learn to dive from any kind of boat, search and recovery, and dive against debris courses.
Advance Dives
PADI divers can go on to be professional instructors. If you have five or more specialty dives you can go on to be a Master Diver. Afterward, there are certifications to become regular instructors, wreck instructors, and many other types of PADI instructor positions.
SCUBA diving offers a wide-open world of possibilities. Having your first basic PADI course is important. From there you can take your time to figure out the best add-on courses and whether or not you want to pursue a career in PADI instruction. If you are not sure exactly which course is best for your situation then contact By the Shore SCUBA Instruction for some direction for your SCUBA endeavors.
Sources : https://www.scubadivingraleigh.com/services-view/scuba-classes
https://www.padi.com/education/specialty-courses