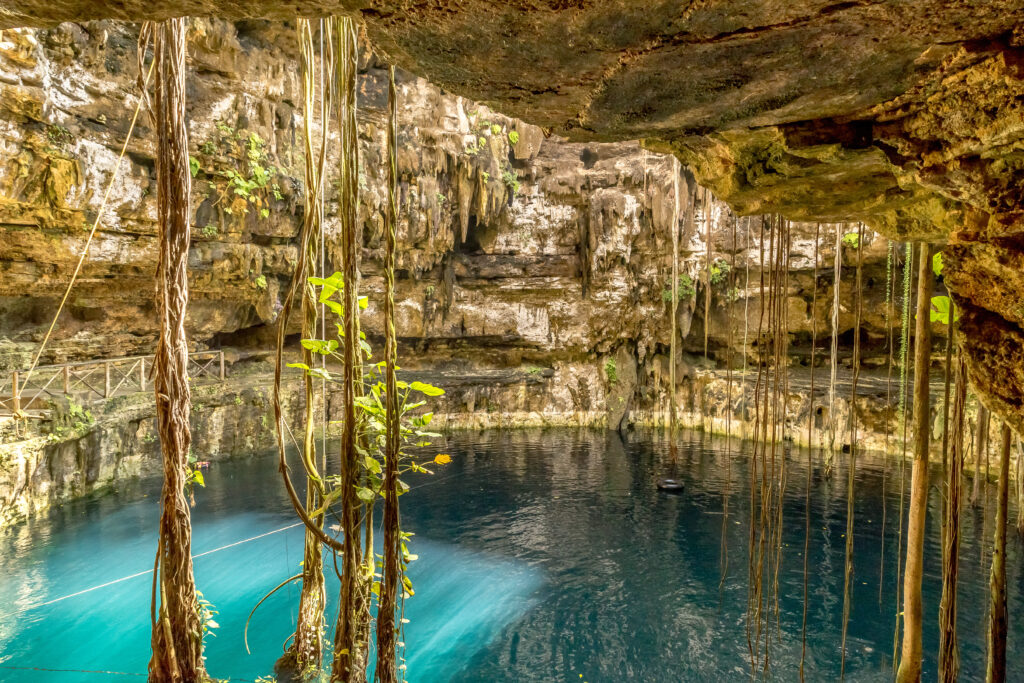 There are places where brave divers dare to dive. Secret swimming holes and springs throughout the Western Hemisphere have drawn attention on the internet and are part of the integral gems that make up the natural world. Here are some secret swimming holes you might want to explore.
Aztec Falls
Located in California's San Bernardino National Forest, this secret swimming hole is a beautiful paradise. Divers will find this particular hole exciting because of the blue cliffs. The water appears blue in the reflection of the sunlight, and you can see the drop off into a deep hole. When the sun shines at a certain angle, it looks like a long narrow arrowhead from above.
Tobermory Caves
While these caves in Canada are shallower than most secret swimming holes, they offer wreckage sights and blue waters. You can enter by diving into the Grotto of Bruce Peninsula national park. This experience will put one in mind of The Little Mermaid as you dive through caverns and deep blue waters.
Devil's Den
Panama City in Florida is home to one of the oldest prehistoric dive holes. The Devil's Den is owned and operated by a small diving company. You can't enter the hole unless you are SCUBA certified or a snorkeler, which makes this hole a rare experience. The swimming hole is located underground in a prehistoric sinkhole hardened over thousands of years. Minerals and spring waters give these waters a beautiful blue crystalline appearance.
Jardin del Eden Cenote
Jardin del Eden (which translates from Spanish to English into the Garden of Eden) is a large swimming hole in the middle of the Jungles of Quintana Roo, Mexico. You will want an experienced tour guide or SCUBA diver to take you to this swimming hole since the area is surrounded by wildlife. The swimming hole itself does not have a lot of creatures, but the caverns are an experience to behold for cave divers.
The Great Blue Hole of Belize
Unlike most swimming holes, this secret swimming hole lies in the open ocean off the coast of Ambergris Caye in Belize. Dive in and explore vast coral reefs with fish. You will need to chart a boat out to this location which isn't hard to do. Thousands of visitors chart dives to the Great Blue Hole of Belize. The visitors are spread throughout the year, making this location relatively high profile.
Cenote Ik Kil, Mexico
Explore the swimming hole that holds small catfish and vines. Cenote Ik Kil or the Sacred Blue Hole is home to a deep swimming hole full of ruins to explore. Immerse yourself in the sacred place of the Ancient Mayans. Archaeologists believe human sacrifices occurred in the Sacred Blue Hole. Critics believe that people tripped and became trapped in the sinkhole. Curious divers can decide for themselves in this ancient ruin.
The Blue Hole
In Santa Rosa, New Mexico lies the beautiful scenic Blue Hole. Trees and rocks surround this picture-perfect diving hole. Choose to swim or dive into the caverns below. The water reflects a blue hue and offers beautiful night dives. The swimming hole has lights and buoys so divers can safely explore.
Swimming holes offer divers a chance to practice diving before entering the open ocean. The deep swimming holes offer mystery, discoveries, and a contained environment for curious divers. If you are interested in charting a swimming hole dive, contact By The Shore SCUBA Instruction. We can offer advice and training for cave dives.
Sources
These Are The 10 Best Swimming Holes In The World (junkee.com)
The Cenotes Of Mexico: Ancient Mayan Sacrificial Sites - WorldAtlas
What You Need to Know About Diving Belize's Great Blue Hole - Sandy Point Resorts
12 top-secret swimming holes (usatoday.com)
Devil's Den Spring - Scuba Diving Florida, Snorkeling, Scuba Diving Certification (devilsden.com)